Everest Mount
Regular price

$74.99

Sale price

$74.99
The Everest Wall Hitch allows you to easily store your hitch accessories—such as a cargo carrier, hitch, or bicycle rack—where they're not taking up floor space but are still easy to access. Storage space in the garage or shed for large objects is often a rare commodity, making wall-mounted storage a more desirable option. With the Wall Hitch, you can mount your bicycles on your hitch bike rack right on your wall for storage, cleaning, or maintenance. But it's not just for bicycles: you can use the Wall Hitch to securely store your cargo carrier or hitch out of the way when they're not being used. With solid steel construction and mounted directly into a wall stud using 3 rugged structural screws, the Wall Hitch will hold up to 310 pounds, providing you with a durable and sturdy storage solution. For additional security, the receiver features a hitch-pin hole to lock in your hitch accessory, and the base includes a convenient utility loop to accommodate a cable lock. When not in use, the Wall Hitch folds up into the base to get it out of the way for a streamlined profile. Its powder-coated finish makes it an attractive addition to any space, and is rust- and corrosion-resistant to last for years to come. This space-saving Wall Hitch is available in two sizes, 2" and 1.25", so you can choose the size that fits your adventure.

1. Product Specs

Material: Solid Steel
Color: Slate Blue/Moonstone Gray
Finish Type: Powder-Coated
Assembly Required: No
Mounting Type: Wall Mount
Size: 2 inches and 1.25 inches
Product Dimensions, receiver extended: 12.25 x 2.875 x 7.75 inches Product Dimensions, receiver folded up into base: 12.25 x 2.875 x 3.094 inches
Product Weight: 8 pounds
2. Features

Easy to use:
Quickly and securely mount your trailer-hitch accessories—bike rack, cargo carrier, or hitch—on the wall where it's off the floor and out of the way.

Multipurpose functionality:
The Wall Hitch not only stores your bicycles and bike rack; it also serves as a sturdy base for cleaning and servicing your bikes.

Built to last:
Constructed of heavy-duty powder-coated solid steel, the Wall Hitch is designed for vertical installation in a single wall stud, providing the strength & support to hold up to 310 pounds of equipment.

Simple & quick installation:
The Wall Hitch comes with 3 rugged structural screws plus the needed drill and Torx bits for quick and secure wall-stud mounting.

Designed for safety & security:
The Wall Hitch receiver is hinged so you can fold it up into the base and out of the way when it's not in use. Security features include a hitch-pin hole to lock in your rack and a utility loop for your bike cable lock or hooks to hang bike helmets and other accessories.

The size you need:
Choose the model that best fits your hitch accessories: Wall Hitch with 2" or 1.25" receiver.
"Locking the rack to the mount is extremely easy. Just like locking it to the car."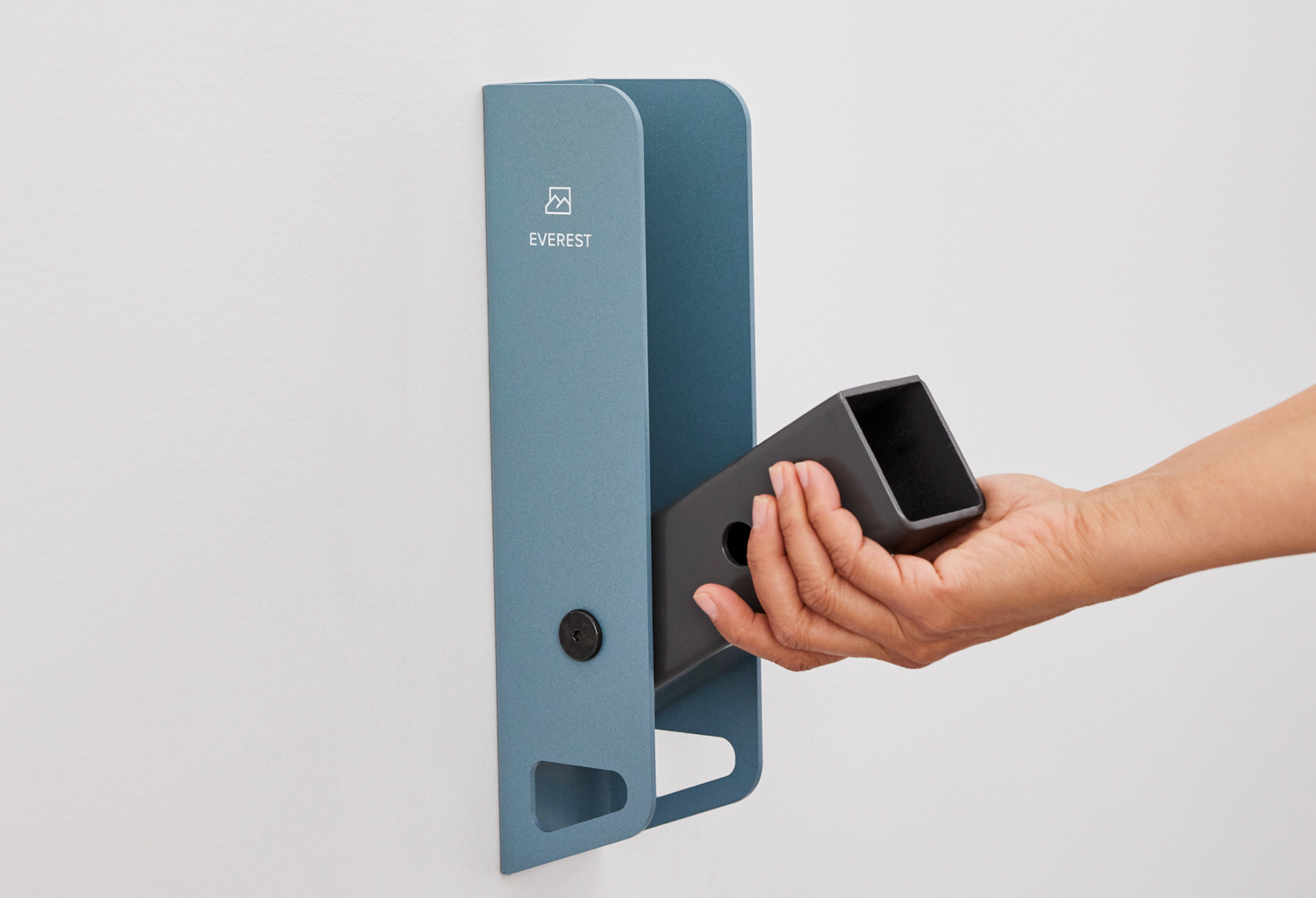 The Everest Mount takes storage to a higher level:
Clean, easy-to-use design

Solid no-weld steel construction

Huge 310-lb. capacity

Foldable design